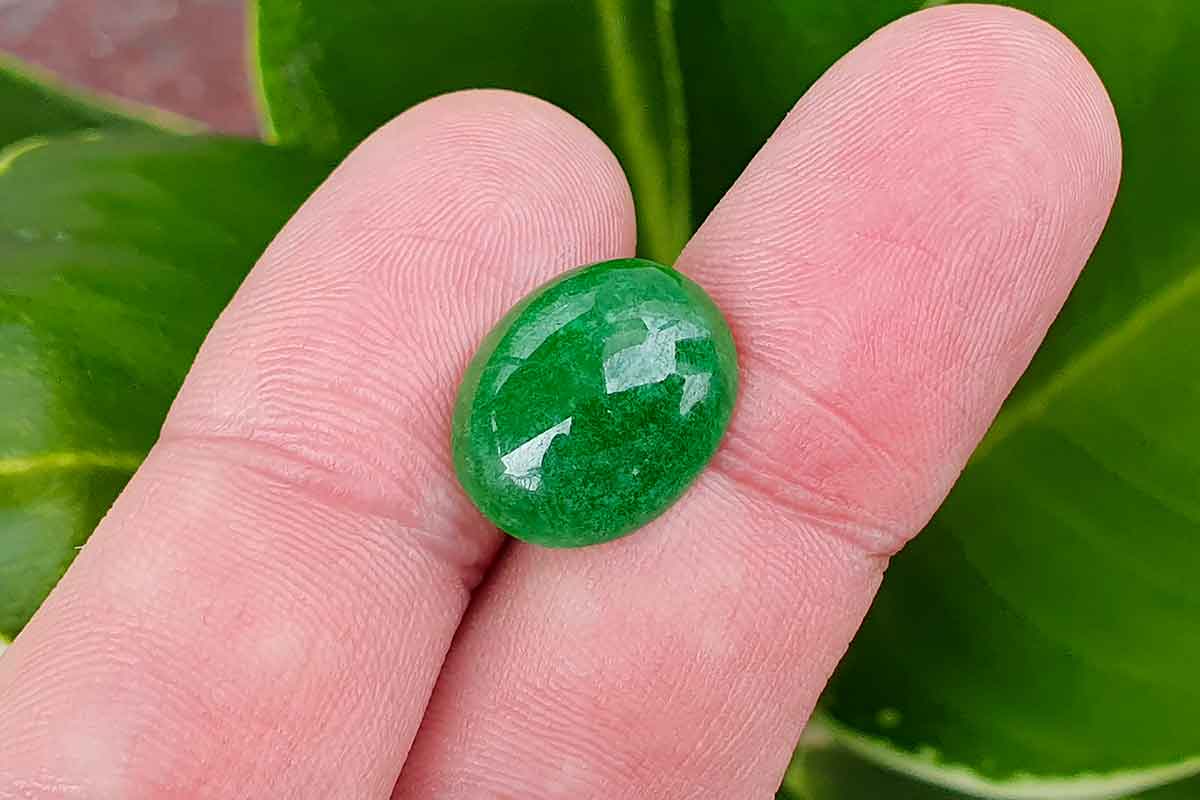 Jadeite jade type C has been impregnated with a colored dye and had its color appearance enhanced.
In some cases the stone will be acid treated, dyed, then polymer impregnated to make detection more difficult.
Identification
To the average person it is near impossible to spot the difference between natural and treated stone. Experienced jade cutters can tell the difference because of the slight change in weight as treated jade is infused with polymer resin which is lighter than its original form.
Even so, this examination by touch is not 100% guaranteed and often for valuable jadeite items it is safer to have it certified at the gemstone laboratory. The certification is divided into three categories: Type A, Type B and Type C.
Type A jadeite jade
Type A is natural and has true colour. No artificial treatments.
Look for black, yellow, or brown inclusions. These can be large patches of black inclusions as seen in flower-green varieties, or small, dark grey or yellowish dot-sized inclusions near carving outlines. Sometimes, these tiny inclusions can be hidden near prong settings in rings.
Type B jadeite jade
Type B first appeared in the 1980s, Known as bleached jade. Treated to remove yellow, brown, or black inclusions. Injected with polymer to increase transparency.
Poor varieties of jade such as moss-in-snow, flower green, and extreme pea green reveal original characteristics visible to the naked eye even after bleaching. For instance, black patches of inclusions in flower-green jade are not completely removed, but lightened in color and appear blurry to the naked eye.
And finally Jadeite jade type C
Type C has been chemically bleached, then dyed to enhance color. Dye will fade over time due to reaction with strong light, body heat, or household detergent .
You may notice the color of the jade appears to be an awkward bluish green. Another distinguishing feature is the fine green dipping sections visible to the naked eye. Similar to dipping one side of a donut into a green icing glaze, a jade bangle is dipped into a dye solution, creating a dipping donut effect.
Natural gemstones for sale in our shop