Tourmaline and opal are the two stones jewelry for October, according to both the ancient and modern lists of oct birthstone color. The prefect gemstone for October jewelry rings, bracelets, earrings and necklaces.
Birthstones | January | February | March | April | May | June | July | August | September | October | November | December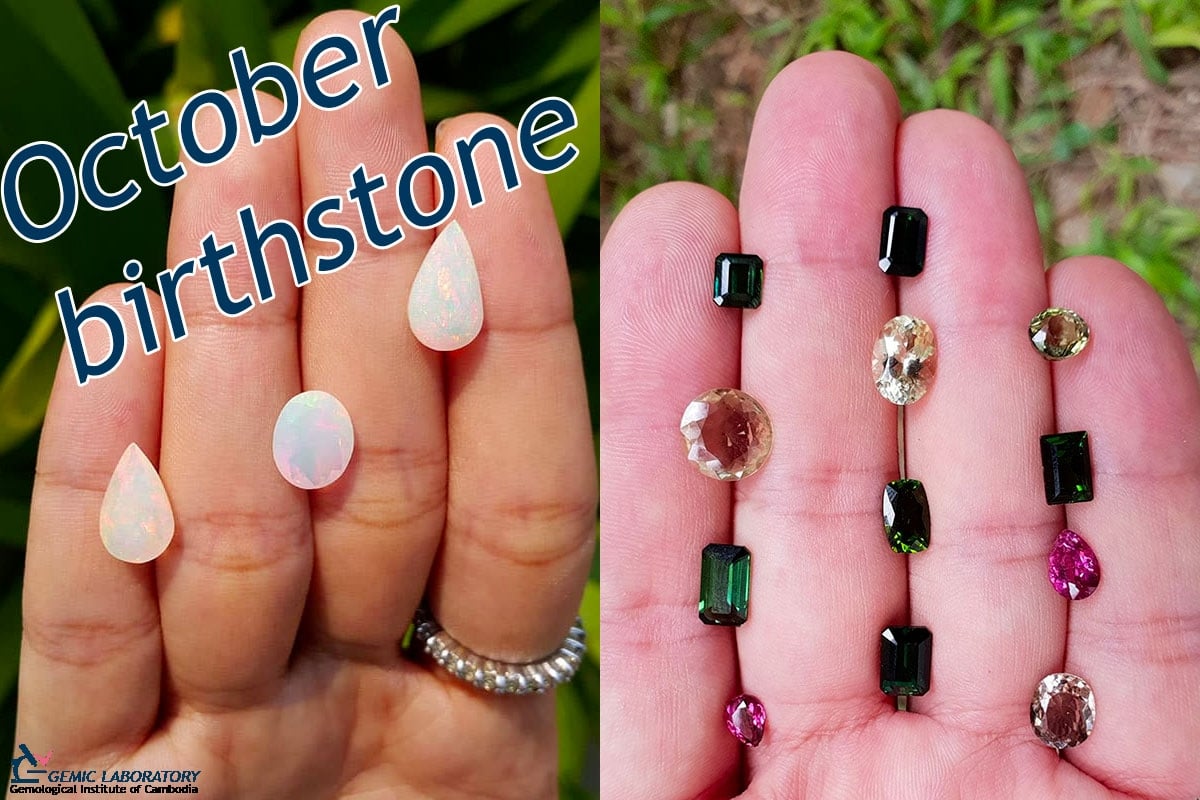 What does October birthstone mean?
A birthstone is a gem that is associated with the birth month of October: Tourmaline and opal.
Tourmaline
A crystalline boron silicate mineral compounded with elements such as aluminium, iron, magnesium, sodium, lithium, or potassium. Tourmaline is classified as a semi-precious stone and the gemstone can be found in a wide variety of colors.
Opal
Opal is a hydrated amorphous form of silica. Its water content may range from 3 to 21% by weight, but is usually between 6 and 10%. Because of its amorphous character, it is classed as a mineraloid, unlike crystalline forms of silica, which are classed as minerals. It is deposited at a relatively low temperature and may occur in the fissures of almost any kind of rock, being most commonly found with limonite, sandstone, rhyolite, marl, and basalt.
What's October's birthstone color?
The semi-precious stone tourmaline grows in a number of colors, ranging from black to blue to pink. Although the differences in october birthstone color can be explained by the stone's mineral compositions, some believe that tourmaline meaning and uses of the different colors can vary from hue to hue.
Besides the october gemstone varieties that show a play of color, the other kinds of common opal include the milk opal, milky bluish to greenish. Resin opal, which is honey-yellow with a resinous luster. Fire opal is a transparent to translucent opal, with warm body colors of yellow to orange to red. Although it does not usually show any play of color, occasionally a stone will exhibit bright green flashes.
Where is October birthstone found?
Gem and specimen tourmaline is mined chiefly in Brazil and Africa. Some placer material suitable for gem use comes from Sri Lanka and India. In addition to Brazil, tourmaline is mined in Tanzania, Nigeria, Kenya, Madagascar, Mozambique, Namibia, Pakistan, Afghanistan, India, Sri Lanka, Belitung Island – Indonesia and Malawi.
Australian opal has often been cited as the world's best opal. Ethiopia is actually the main source. Fire opal occurs in significant quantity and variety in central Mexico. Other significant deposits of opal around the world can be found in the Czech Republic, Canada, Slovakia, Hungary, Turkey, Indonesia, Brazil, Honduras, Guatemala and Nicaragua.
What is October birthstone jewelry?
Birthstone jewelry are made with tourmaline and opal. We sell October birthstone jewelry rings, bracelets, earrings, necklaces & more.
Where to find October birthstone?
There are nice tourmaline and opal for sale in our shop
Symbolism and Meaning
Tourmaline is thought to bring healing powers to a shaman or medicine man. It is a receptive october gemstone, which means it is soothing, calming, inward, and magnetic, promoting meditation, spirituality, wisdom and mysticism.
Opal has always been associated with love and passion, as well as desire and eroticism. It is a seductive stone that intensifies emotional states and releases inhibitions. It can also act as an emotional stabilizer. Wearing an opal is said to bring about loyalty and faithfulness.
What are zodiac signs of October birthstones?
Libra and Scorpio stones are both oct birthstone.
Whatever you are Libra or Scorpio. Tourmaline and opal are the stone from October 1 to 31.
Natural October birthstone for sale in our gem shop