Ruby is the birthstone of July, according to both the ancient and modern lists of June stone color. The perfect gemstone for july birthstone ring or necklace jewelry.
Birthstones | January | February | March | April | May | June | July | August | September | October | November | December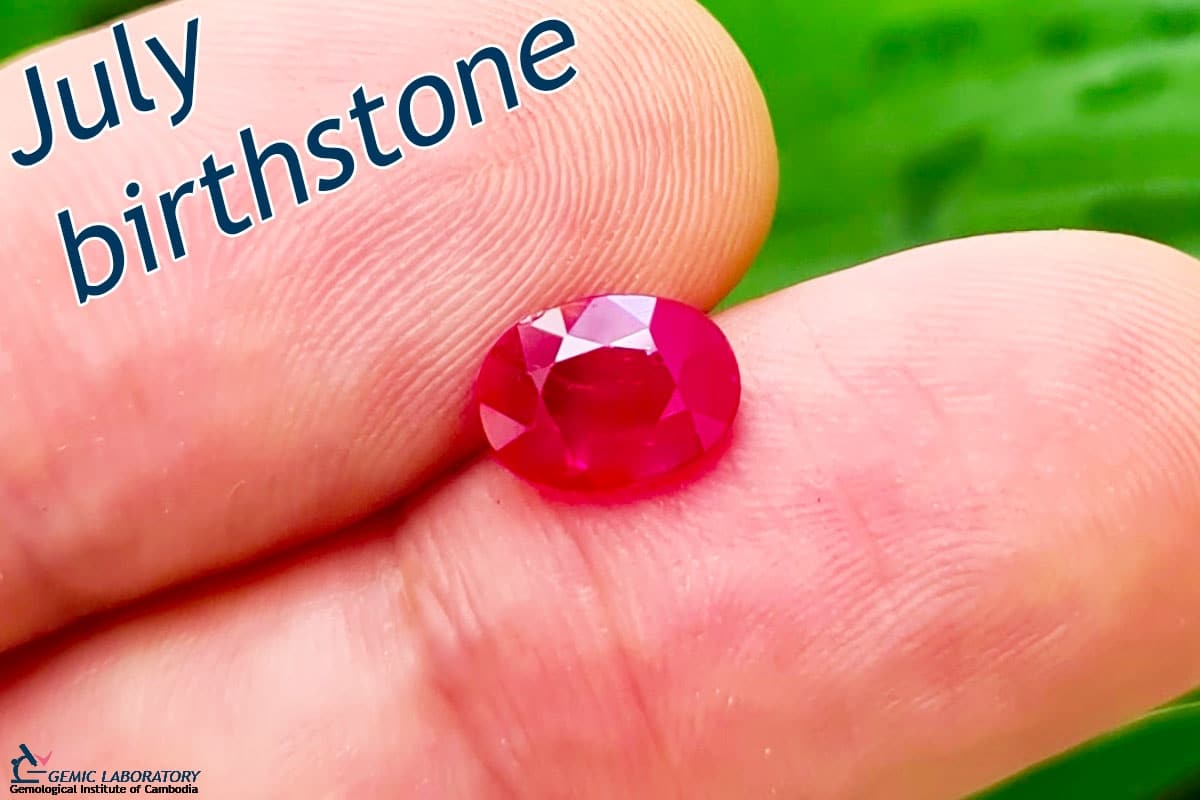 What does July birthstone mean?
A birthstone is a gem that is associated with the birth month of July: ruby. Rubies, the gemstone for july, are considered the king of gems and represent love, health and wisdom. It was believed wearing a fine red ruby bestowed good fortune on its owner. A ruby is the most valuable gemstone and its value increases based on its color and quality.
Ruby
A ruby is a red color gemstone, a variety of the mineral corundum. Ruby is one of the traditional cardinal gems. The word ruby comes from ruber, Latin for red. The color of a ruby is due to the element chromium.
What's July's birthstone color?
The finest ruby has a pure, vibrant red to slightly purplish red color. In most markets, pure red colors command the highest prices and ruby with overtones of orange and purple are less valued. The color must be neither too dark nor too light to be considered finest quality.
Where is July birthstone found?
The Mogok Valley in Upper Myanmar was for centuries the world's main source for rubies. Historically, rubies have also been mined in Thailand, in the Pailin and Samlout District of Cambodia, as well as in Afghanistan, Australia, Brazil, Colombia, India, Namibia, Japan, and Scotland. After the Second World War ruby deposits were found in Madagascar, Nepal, Pakistan, Tajikistan, Tanzania, and Vietnam.
What is July birthstone jewelry?
We sell ruby rings, bracelets, earrings, necklaces & more.
Rubies represent love, health and wisdom. Wearing a fine red ruby bestow good fortune on its owner.
Symbolism and Meaning
Ruby is a protective stone that can bring happiness and passion. Ruby makes a perfect gift for a loved one or on occasions such as Valentine's Day or an anniversary. The ruby's hue is close to the color of blood, which carries oxygen to all parts of the body, the gemstone also represents vitality and vigor. The stone has the power to align and lend energy to the body. Ruby protect from negative entities that leach positive energy, promoting spiritual vitality and wellness overall.
What are zodiac signs of July birthstones?
Cancer and Leo stones are both gemstone for july.
Whatever you are Cancer and Leo. Ruby is the stone from July 1 to 31.
Natural July birthstone for sale in our gem shop
We make custom made July birthstone jewelry as engagement rings, necklaces, stud earrings, bracelets, pendants… Please contact us for a quote.