Aquamarine and bloodstone are the two birthstones jewelry color for March. One evokes blue skies color and calming waters while the other represents health and strength.
Birthstones | January | February | March | April | May | June | July | August | September | October | November | December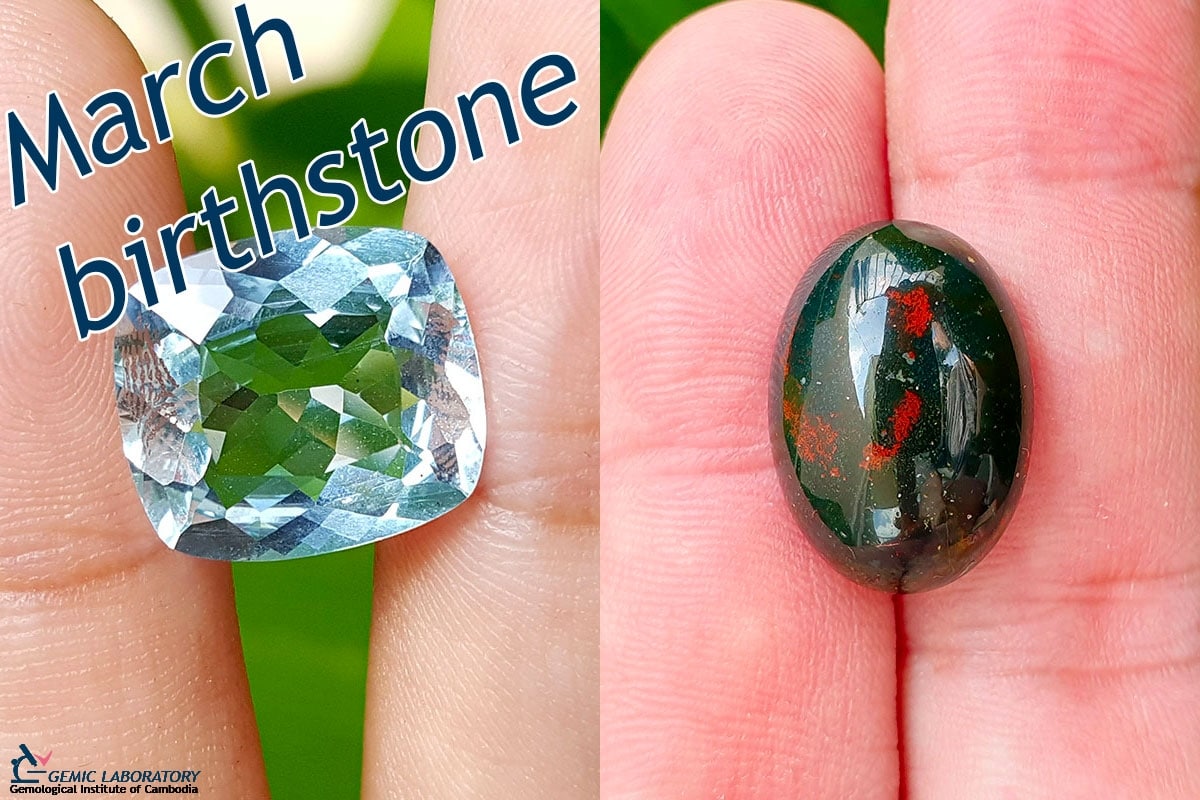 What does March birthstone mean?
A birthstone is a gem that is associated with the birth month of March: aquamarine and bloodstone
Aquamarine
Aquamarine, the birthstone of March, evokes the colors of the sea. From deep green-blue to light, slightly greenish blue. This jewel is known for its vivid appearance and for the pop of color it provides.
Bloodstone
Bloodstone, the birthstone of March, a dark-green gemstone flecked with vivid red spots of iron oxide. Generally found embedded in rocks or in riverbeds as pebbles, primary sources for this gemstone are India, Brazil, and Australia.
What's March's birthstone color?
Aquamarine, the birthstone of March, has a rich color and has long been a symbol of youth, health and hope. Its mesmerizing color ranges from pale to deep blue and are reminiscent of the sea.
The bloodstone birthstone is typically a dark-green cabochon that contains red spots of iron oxide, the "blood" that brings health and strength to the wearer.
Where is March birthstone found?
Aquamarine birthstones are mined in Kenya, Madagascar, Nigeria, Zambia and Mozambique, as well as elsewhere in Africa. USA, Vietnam and also Cambodia
The original deposits of bloodstone birthstone is mined in Australia, Brazil and India and typically found as pebbles in riverbeds or embedded in rocks
What is March birthstone jewelry?
Birthstone jewelry are made with aquamarine and bloodstone. We sell March birthstone jewelry rings, bracelets, earrings, necklaces & more.
Where to find March birthstone?
There are nice aquamarine and bloodstone for sale in our shop
Symbolism and Meaning
Aquamarine, the birthstone of March jewelry, creates a beautiful accent to spring and summer wardrobes. Aquamarine evokes the purity of crystalline waters, and the exhilaration and relaxation of the sea. It is calming, soothing, and cleansing, and inspires truth, trust and letting go. In ancient lore, aquamarine was believed to be the treasure of mermaids, and was used by sailors as a talisman of good luck, fearlessness and protection. It was also considered a stone of eternal youth and happiness. Today it protects all who travel by, over, or near water, and opens the channels of clear and heartfelt communication.
A stone of courage, purification, and noble sacrifice, the bloodstone has a long history of use for its healing properties. It was considered a somewhat magical stone because of its ability to transmute negative energy and purify a space while protecting it at the same time. In the ancient world, bloodstone was considered to be the most beautiful of the Jaspers, a deep, earthy green gem emboldened with spots of bright red. Called the Sun Stone, and later Christ's Stone, its energy carries the purity of blood and inherently speaks of life and birth, vitality and strength, passion and courage. As a talisman it is both mystical and magical, and its virtues are protective and nurturing.
What are zodiac signs of March birthstones?
Pisces and Aries stones are both Jan birthstone
Whatever you are Pisces and Aries. Aquamarine and bloodstone are the stone from March 1 to 31.
Natural March birthstone for sale in our gem shop
We make custom made March birthstone jewelry as engagement rings, necklaces, stud earrings, bracelets, pendants… Please contact us for a quote.