Garnet is the birthstone for January according to both the ancient and modern lists of jan birthstone color.
Birthstones | January | February | March | April | May | June | July | August | September | October | November | December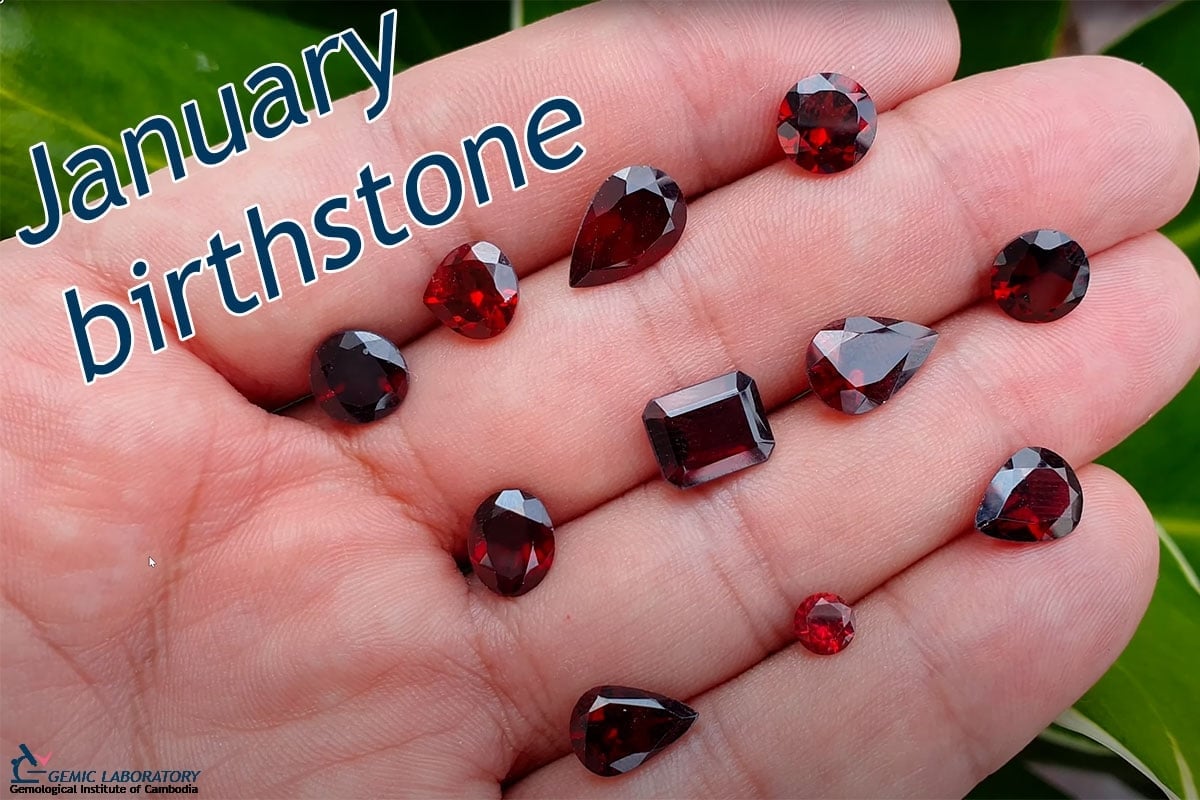 What does January birthstone mean?
A birthstone is a gem that is associated with the birth month of january: garnet. It is a symbol of protection. It can keep the wearer safe during a travel as exemple.
Garnet
Garnet, the birthstone of Jan, is mined in all rainbow of colors. The garnet family is one of the most complex in the gem world. It's not a single species but rather consists of several species and varieties. Only the red pyrope garnet is considered as January birthstone.
What's January's birthstone color?
Garnet is commonly associated with the color red, these gemstones can be found in almost any color and are popular choices for jewelry of all types.
It is a deep, dark, rich red to slightly purple red.
Red is the color at the end of the visible spectrum of light, next to orange and opposite violet.
Where is January birthstone found?
The original deposits of pyrope garnet were in Bohemia, in the Czech Republic. These sources are more historical then practical, and little material comes from there today. The main Pyrope deposits are in Mozambique, Tanzania, Kenya, South Africa, India, Sri Lanka, China, and the U.S. (Arizona and North Carolina).
What is January birthstone jewelry?
We sell garnet rings, bracelets, earrings, necklaces & more.
Garnet gemstone jewelry shines a deep & lovely red hue. January's garnet is a sign of passion, good luck & motivation.
Where to find January birthstone?
There are nice red garnets for sale in our shop
Symbolism and Meaning
Pyrope garnet emotionally relieves anxiety, and promotes composure, courage and endurance. It lightens the overall mood. It protects the base and crown chakras, and may balance the heart and brow chakras as well. Pyrope garnet stimulates warmth and gentleness, unifying the creative forces of the self.
What are zodiac signs of January birthstones?
Capricorn and Aquarius stones are both Jan birthstone
Whatever you are Capricorn or Aquarius. Garnet is the stone from January 1 to 31.
Natural January birthstone for sale in our gem shop
We make custom made January birthstone jewelry as engagement rings, necklaces, stud earrings, bracelets, pendants… Please contact us for a quote.