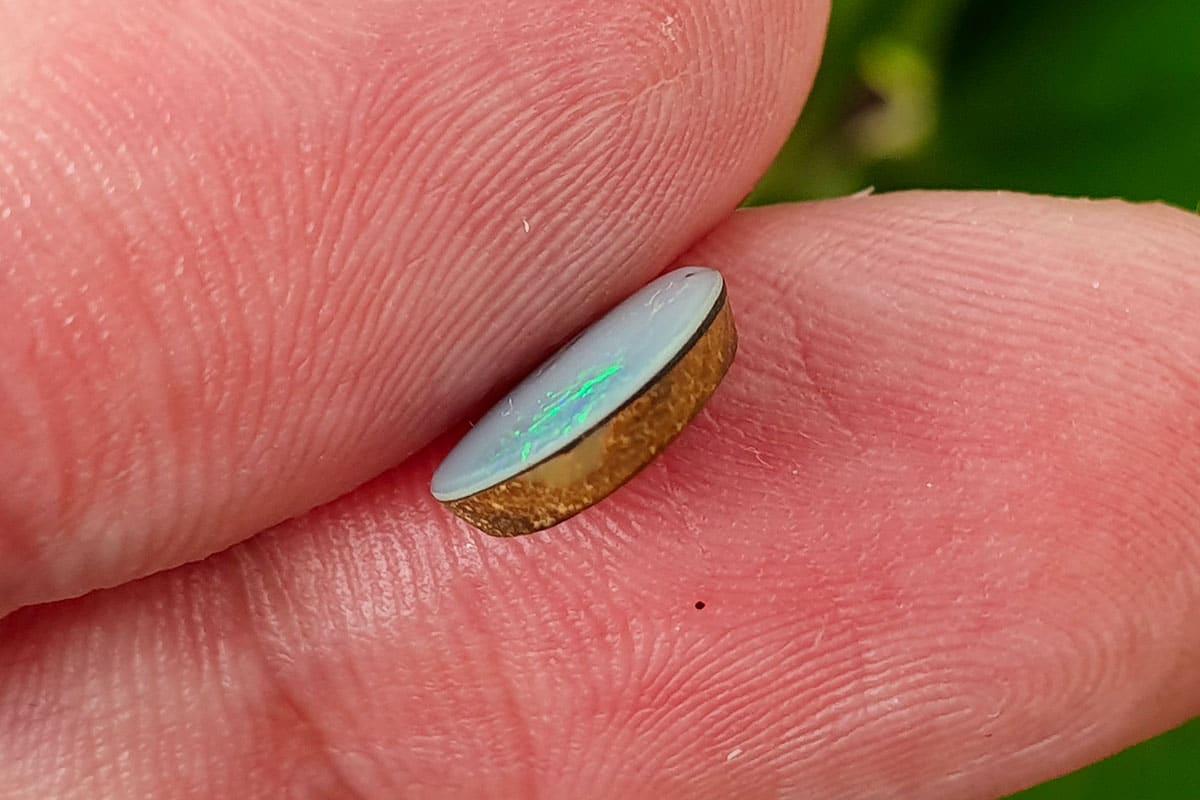 Doublet opal. For gemstone use, most opal is cut and polished to form a cabochon. Solid opal refers to polished stones consisting wholly of precious opal.
Opals too thin to produce a solid may be combined with other materials to form attractive gems. An opal doublet consists of a relatively thin layer of precious opal, backed by a layer of dark-colored material, most commonly ironstone, dark or black common opal, onyx, or obsidian.
The darker backing emphasizes the play of color, and results in a more attractive display than a lighter opal. An opal triplet is similar to a doublet, but has a third layer, a domed cap of clear quartz or plastic on the top. The cap takes a high polish and acts as a protective layer for the opal.
The top layer also acts as a magnifier, to emphasize the play of color of the opal beneath, which is often of lower quality.
Triplet opals therefore have a more artificial appearance, and are not classed as precious opal. Jewelry applications of precious opal can be somewhat limited by opal's sensitivity to heat due primarily to its relatively high-water content and predisposition to scratching.
Combined with modern techniques of polishing, doublet opal produces a similar effect to black or boulder opal at a fraction of the price. Doublet opal also has the added benefit of having genuine opal as the top visible and touchable layer, unlike triplet opals.
Doublet
A doublet is a type of assembled gem composed in two sections. It is sometimes used to imitate other, more expensive gems.
A garnet and glass doublet use a top portion of natural garnet fused to any color of glass to imitate a gem. The color of glass used in the doublet is all that is seen, as the garnet provides no color. If seen in reflected light, a separation line may be seen.
A harder garnet makes the stones more durable. In the case of opal doublets, a backing layer of onyx or matrix ironstone gives the more fragile opal layer support and can make the opal look darker and higher quality.
Garnet and glass doublets were first used around 1850 when it was noted that molten glass would adhere to garnet. It was a popular imitation for all types of gems in many colors because the color of the glass became the only color that could be seen.
They were still being produced into the early 1900s until actual synthetic gems were introduced.
Doublet opal

Natural opal for sale in our gem shop
We make custom made opal jewelry as engagement rings, necklaces, stud earrings, bracelets, pendants… Please contact us for a quote.