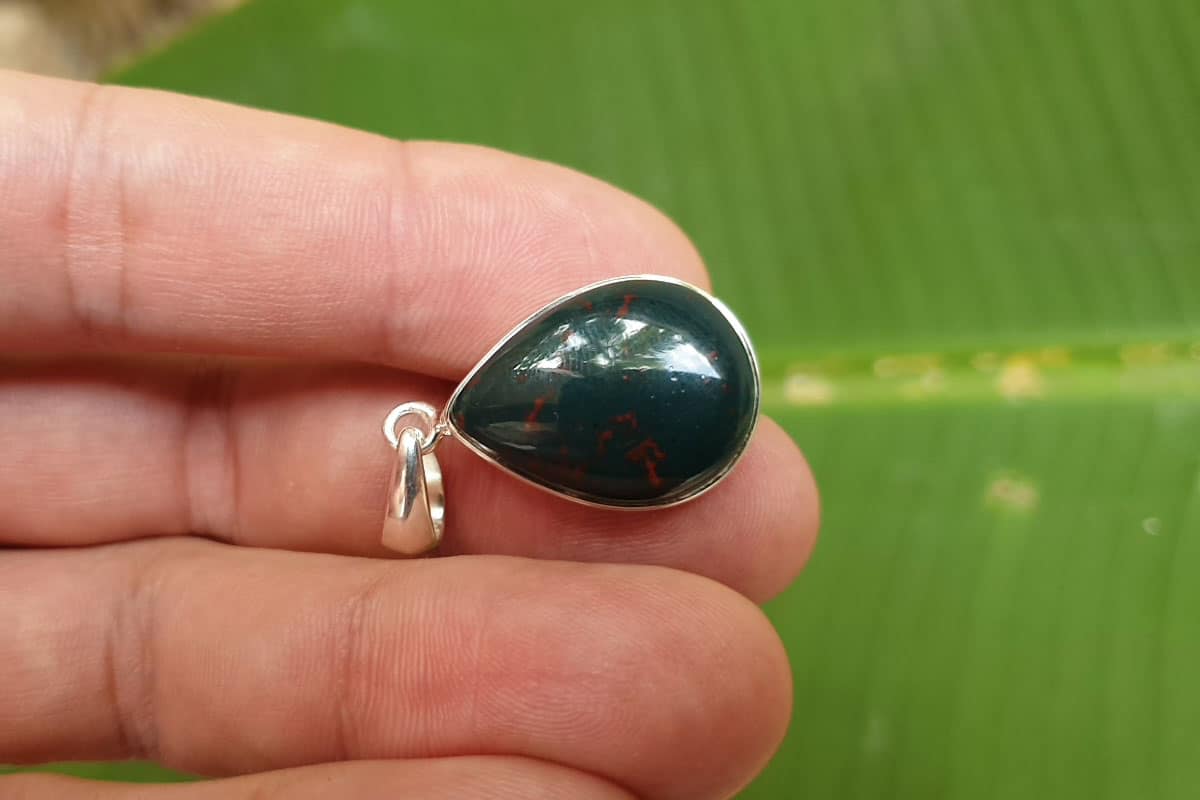 Bloodstone also called blood stone or heliotrope crystal meaning. Dragon blood stone.
The mineral aggregate heliotrope, also known as bloodstone, is a variety of jasper or chalcedony, which is a cryptocrystalline mixture of quartz. The classic stone is green jasper with red inclusions of hematite.
The red inclusions are supposed to resemble spots of blood, hence the name bloodstone. The name heliotrope derives from various ancient notions about the manner in which the mineral reflects light. These are described, e.g., by Pliny the Elder.
Heliotrope was called "stone of Babylon" by Albert the Great and he referred to several magical properties, which were attributed to it from Late Antiquity. Pliny the Elder (1st century) mentioned first that the magicians used it as a stone of invisibility. Damigeron (4th century) wrote about its property to make rain, solar eclipse and its special virtue in divination and preserving health and youth.
Heliotrope features as an invisibility stone in one of Boccaccio's stories in the Decameron and as a healing magic item in a musical comedy derived from it.
Heliotrope is sometimes used in carved signet rings and is the traditional birthstone for March.
Sources
The primary source of the stone is Indonesia, especially in Purbalingga district. It is also found in Armenia, Azerbaijan, Brazil, Bulgaria, China, Australia, and the United States. There is also an outcrop of bloodstone on the Isle of Rum, in Scotland.
Jasper
An aggregate of microgranular quartz and/or chalcedony and other mineral phases, is an opaque, impure variety of silica, usually red, yellow, brown or green in color, and rarely blue. The common red color is due to iron inclusions. The mineral aggregate breaks with a smooth surface and is used for ornamentation or as a gemstone.
It can be highly polished and is used for items such as vases, seals, and snuff boxes. The specific gravity of jasper is typically 2.5 to 2.9. A green variety with red spots, known as heliotrope, is one of the traditional birthstones for March. Jaspilite is a banded iron formation rock that often has distinctive bands of jasper.
Bloodstone meaning and healing properties benefits
The following section is pseudo scientific and based on cultural beliefs.
Crystal meaning an excellent blood cleanser and a powerful healing stone. It heightens intuition and increases creativity. It is grounding and protecting. It draws off negative environmental energy, helping to overcome influences such as geopathic or electromagnetic stress.
Birthstone
The second birthstone for March is bloodstone, a dark-green gemstone flecked with vivid red spots of iron oxide. Generally found embedded in rocks or in riverbeds as pebbles.
FAQ
What is dragon blood stone?
Dragon blood stone is actually not a Jasper, and hence it's also often known as dragon stone instead. The distinctive green color is from the epidote mineral, and the red color is from piemontite.
What is a bloodstone good for?
The stone is an excellent blood cleanser and a powerful healing stone. It heightens intuition and increases creativity. It is grounding and protecting. The stone draws off negative environmental energy, helping to overcome influences such as geopathic or electromagnetic stress.
What is bloodstone crystal used for?
A powerful healing stone used for thousands of years for its healing properties. It is often used to purify and detoxify the body. Great at grounding negative energy and cleansing the body, the crystal brings love into any situation and helps ground the negative energies surrounding that issue.
What does a bloodstone represent?
A stone of courage, purification, and noble sacrifice, the stone meaning has a long history of use for its healing properties. It was considered a somewhat magical stone because of its ability to transmute negative energy and purify a space while protecting it at the same time.
Who can wear bloodstone?
In christianity, the gemstone is considered quite substantial and is worn for recovery and protection. Astrologers propose the stone for mesh aries rashi. Western astrology prescribes birthstone for aries. A natural stone also can be worn by way of the ascendants of sagittarius, pisces, cancer and leo.
Where do you place a Bloodstone in your house?
Just put a stone over your thymus. This stone strengthens the root chakra and enhances physical vitality, effectively getting rid of sluggishness. Placed on the heart chakra, The crystal can also balance and ground the heart energies.
Are bloodstones valuable?
Excellent examples have recently sold for more than ten thousand dollars, and others have sold for well over $1000. If you'd like to sell the gem or jewelry, you'll be astounded at the offers you receive.
What color is bloodstone gemstone?
It is an opaque polycrystalline chalcedony (a type of quartz) consisting of dark green jasper with spots or larger areas of red, iron oxide inclusions. These inclusions resemble spots of blood, hence its name.
What chakra is bloodstone stone?
The stone is excellent for the Heart Chakra, pumping fresh energies to your love center. If it has the red hematite inclusions, you can also use the stone for the Root Chakra for grounding and physical energy.
Natural bloodstone for sale in our gem shop
We make custom made bloodstone jewelry as engagement rings, necklaces, stud earrings, bracelets, pendants… Please contact us for a quote.