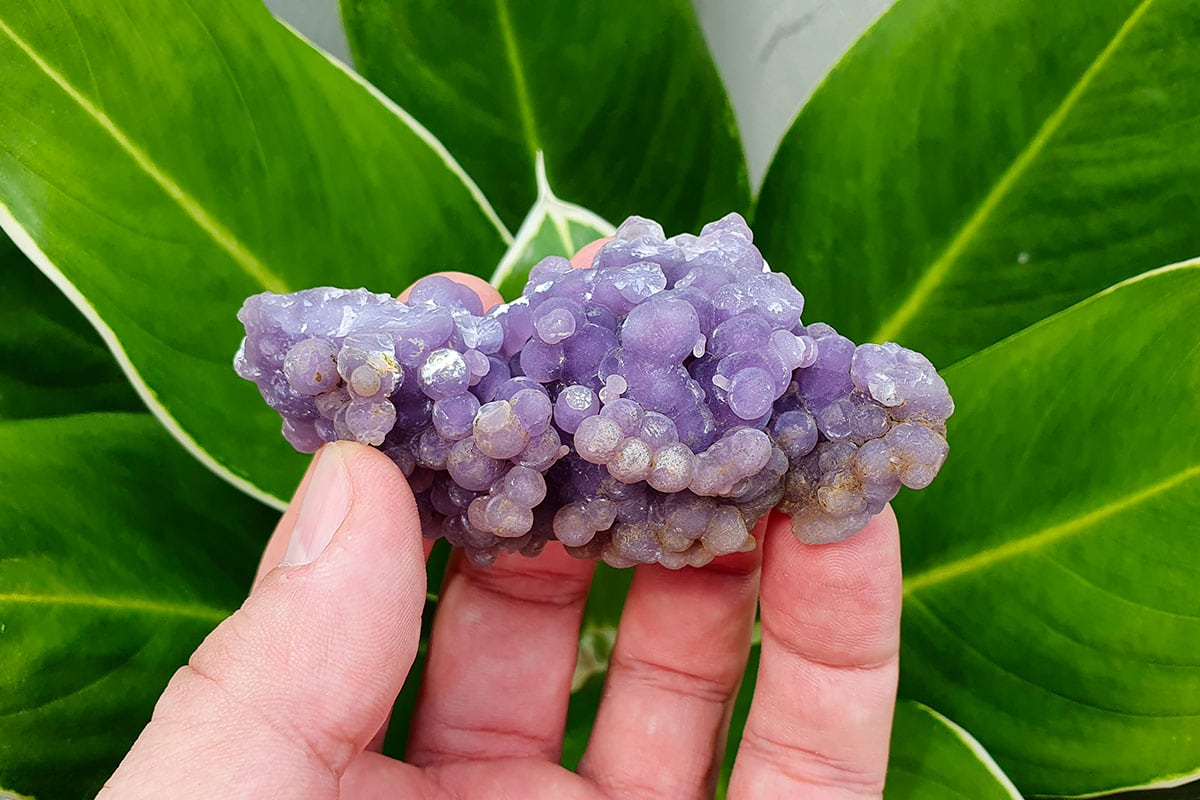 Gemstone Description
Grape agate
Grape agate is trade name, these is actually botryoidal chalcedony. Botryoidal means that round tiny sphere shaped crystals that have naturally formed together.
Botryoidal
A botryoidal texture or mineral habit is one in which the mineral has a globular external form resembling a bunch of grapes.This is a common form for many minerals, particularly hematite, the classically recognized shape. It is also a common form of goethite, smithsonite, fluorite and malachite. This includes chrysocolla.
Each sphere or grape in a botryoidal mineral is smaller than that of a reniform mineral, and much smaller than that of a mamillary mineral. Botryoidal minerals form when many nearby nuclei, specks of sand, dust, or other particles, are present. Acicular or fibrous crystals grow radially around the nuclei at the same rate, appearing as spheres. Eventually, these spheres abut or overlap with those that are nearby. These nearby spheres are then fused together to form the botryoidal cluster.
Grape agate – Botryoidal purple chalcedony quartz
Chalcedony is a cryptocrystalline form of silica, composed of very fine intergrowths of quartz and moganite. These are both silica minerals, but they differ in that quartz has a trigonal crystal structure, while moganite is monoclinic. Chalcedony's standard chemical structure is SiO₂.
Chalcedony has a waxy luster, and may be semitransparent or translucent. It can assume a wide range of colors, but those most commonly seen are white to gray, grayish-blue or a shade of brown ranging from pale to nearly black. The color of chalcedony sold commercially is often enhanced by dyeing or heating.
Grape agate meaning
The following section is pseudo scientific and based on cultural beliefs.
Grape agate promotes inner stability, composure, and maturity. Its warm, protective properties encourage security and self-confidence. It allows for deep and intense levels of meditation in a short period of time. Grape agate is a crystal of dreams, intuition, and luxury.
Grape agate from Indonesia