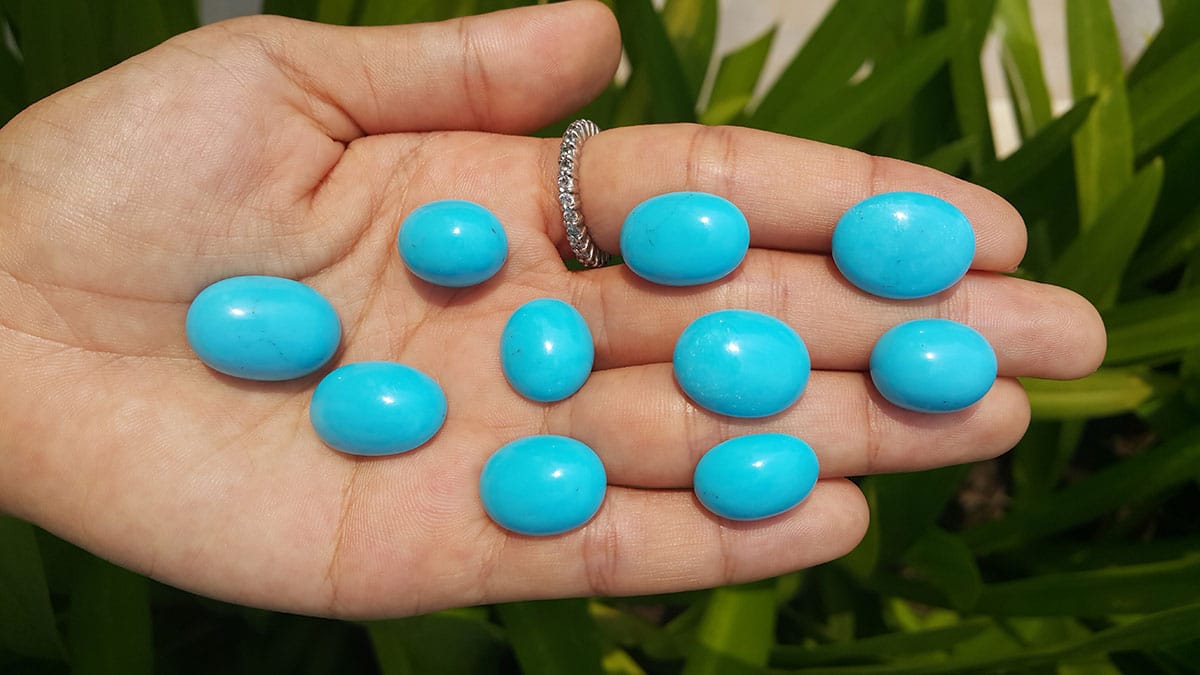 Gemstone Description
Turquoise
Natural turquoise is an opaque, blue to green mineral. It is a hydrated phosphate of copper and aluminium. with the chemical formula CuAl6(PO4)4(OH)8·4H2O. Turquoise is rare and also valuable in finer grades. It has been prized as a gemstone. And ornamental stone for thousands of years. Owing to its unique blue hue. In recent times, it has been devalued. Like most other opaque gems. By the introduction onto the market of treatments, also imitations and synthetics.
Properties
The finest of turquoise reaches a maximum Mohs hardness of just under 6. Slightly more than window glass. Characteristically a cryptocrystalline mineral. Turquoise almost never forms single crystals. And all of its properties are also highly variable. X-ray diffraction testing shows its crystal system to be triclinic. With lower hardness comes lower specific gravity 2.60–2.90. And greater porosity, these properties are dependent on grain size. The lustre is typically waxy to subvitreous. And its transparency is usually opaque. But may be semitranslucent in thin sections. Colour is as variable as the mineral's other properties. Ranging from white to a powder blue to a sky blue. And from a bluish green to a yellowish green. The blue comes from idiochromatic copper. While the green may be the result of either iron impurities, replacing aluminium, or also dehydration.
The refractive index of turquoise is approximately 1.61 or 1.62. This is a mean value seen as a single reading on a gemological refractometer. Owing to the almost invariably polycrystalline nature of the stone. A reading of 1.61–1.65, also birefringence 0.040. Biaxial positive comes from a rare single crystals. An absorption spectrum may also be obtained with a hand-held spectroscope. It reveal a line at 432 nm and also a weak band at 460 nm. Under longwave ultraviolet light, it may occasionally fluoresce green, also yellow or bright blue, it is inert under shortwave ultraviolet and X-rays.
Turquoise, from USA