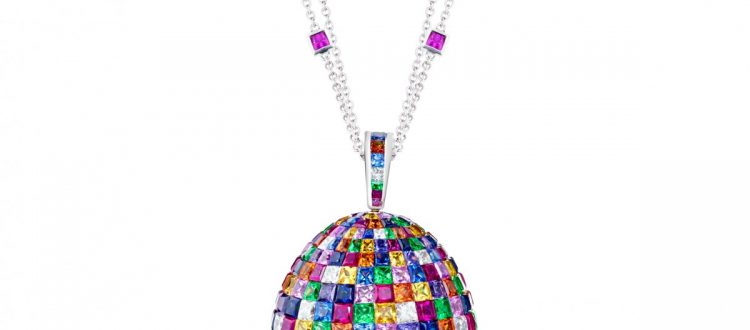 16 Top Jewels At Baselworld 2016
For obvious reasons, watches get the majority of the headlines at Baselworld. The industry is centered in Switzerland where the show is located, and Baselworld is first and foremost a watch show. However, the annual tradeshow, the largest in the world for watches, is also one of the world's largest fine jewelry showcases.
In the face of economic uncertainty and low watch sales, large Swiss watch brands (many owned by luxury holding companies) were cautious and conservative with their new releases.
However, for the jewelry companies, this year was particularly strong for creative and innovative designs. Below are 16 of the products that stood out among a very strong field during the eight days trade fair, which ended on March 24.
Top Jewels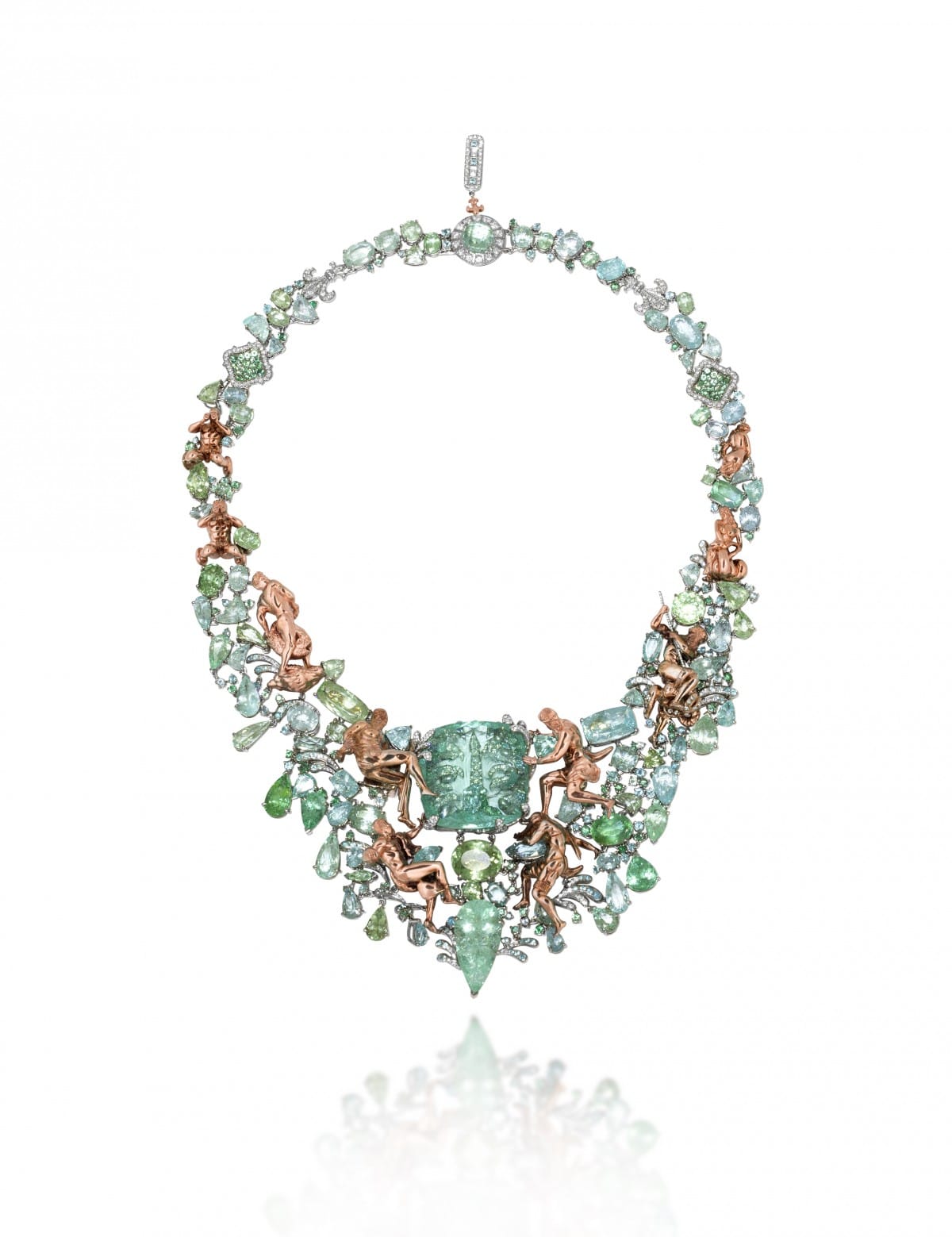 Alessio Boschi
The Italian jewelry designer now based in Bangkok uses combinations of old world and new craft techniques to produce true representations of historical and natural themes with exceptional precious materials. This year he introduced a collection of one of a kind jewels based on the fountains of Rome. Among them is an elaborate paraiba necklace and ring fashioned after the fountains in Piazza Navona.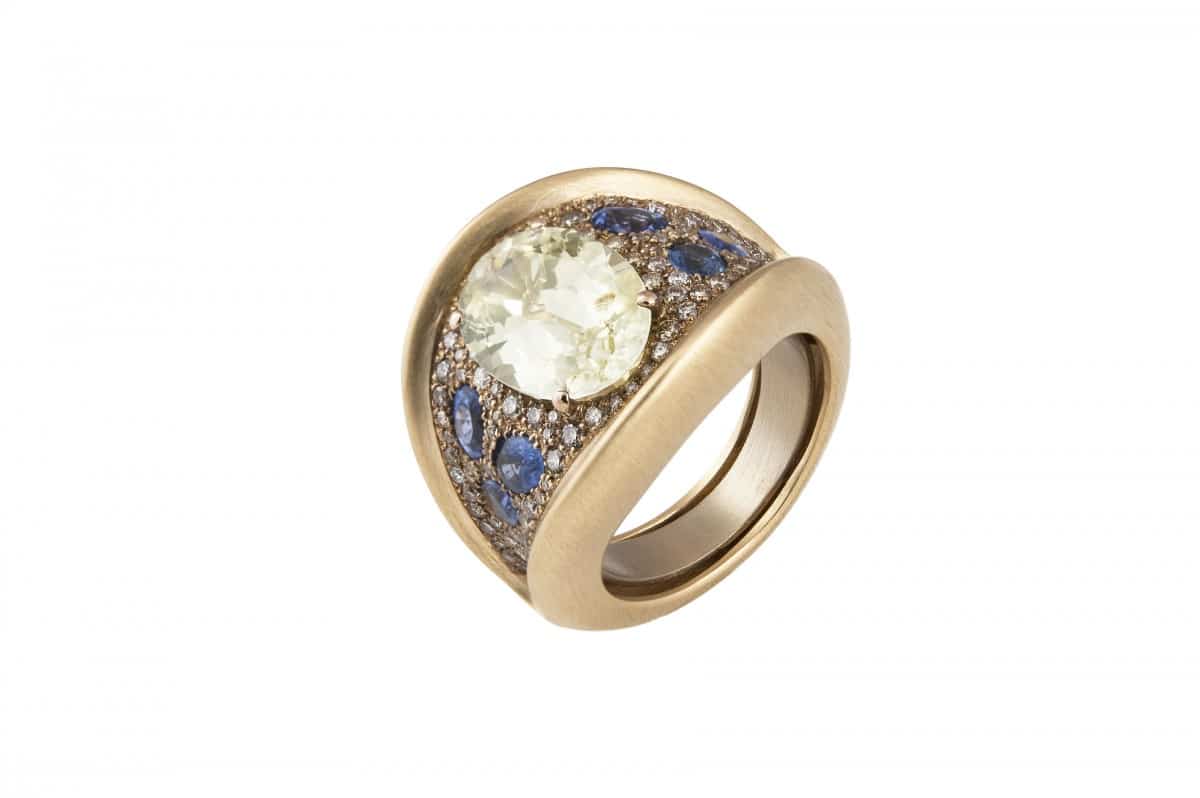 Antonini
The Milan-based company introduced a number of new pieces this year but among the highlights are some unique pieces including cocktails rings, "Fez," made of brushed yellow gold, natural sapphires and a foundation of 84 champagne and cognac diamonds in different sizes. The concave ellipse of the mosaic opens up along the stem of the ring, enclosing it in a sparkling band. The central stone is an oval-shaped natural light-yellow 4.3-carat sapphire, contrasted with the six bright blue lateral sapphires.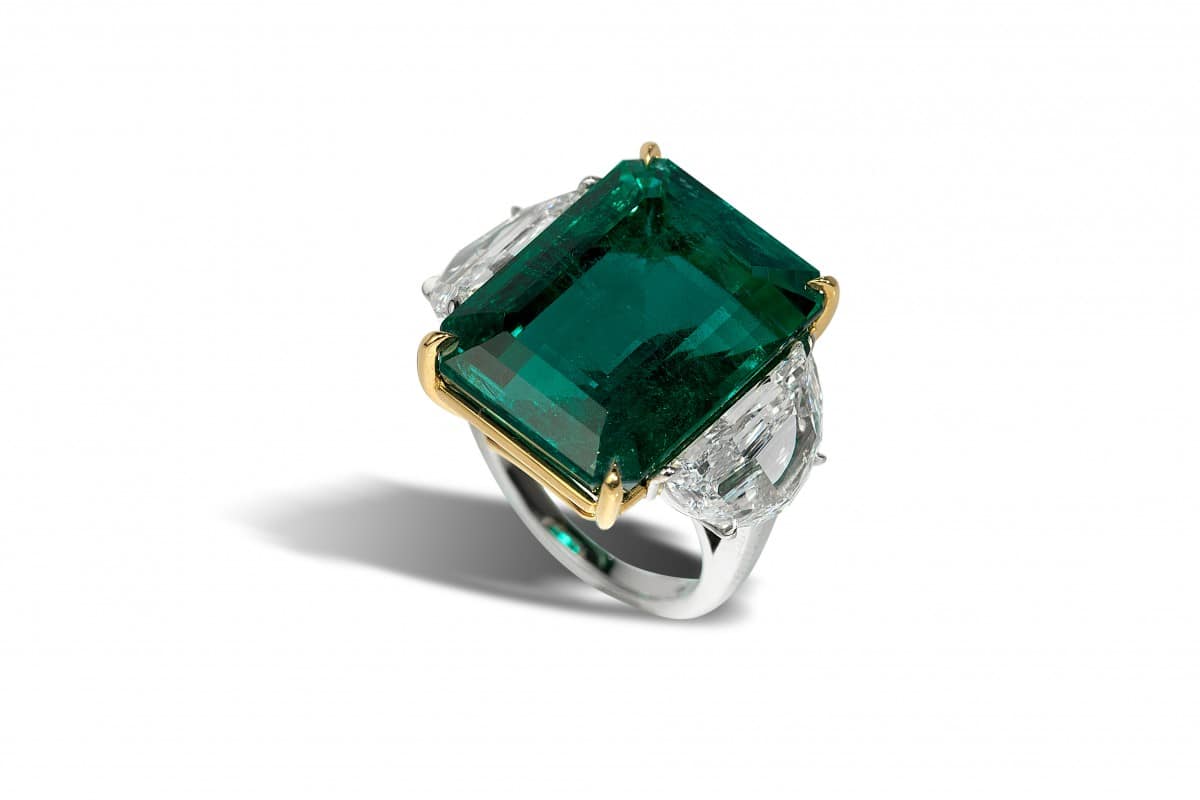 Bayco
The New York-based family owned firm specializes in creating jewels with exceptional gems. The top of the line in their broad pallet of colorful gem-centric pieces is the The Imperial Collection, jewels designed around gemstones of exceptional pedigree. "The Conquistador Emerald," is one of those jewels. It is a platinum and 18k yellow gold ring centred upon a 23 carat unenhanced emerald-cut old-mine Colombian emerald, flanked by 4 carats of half-moon diamonds.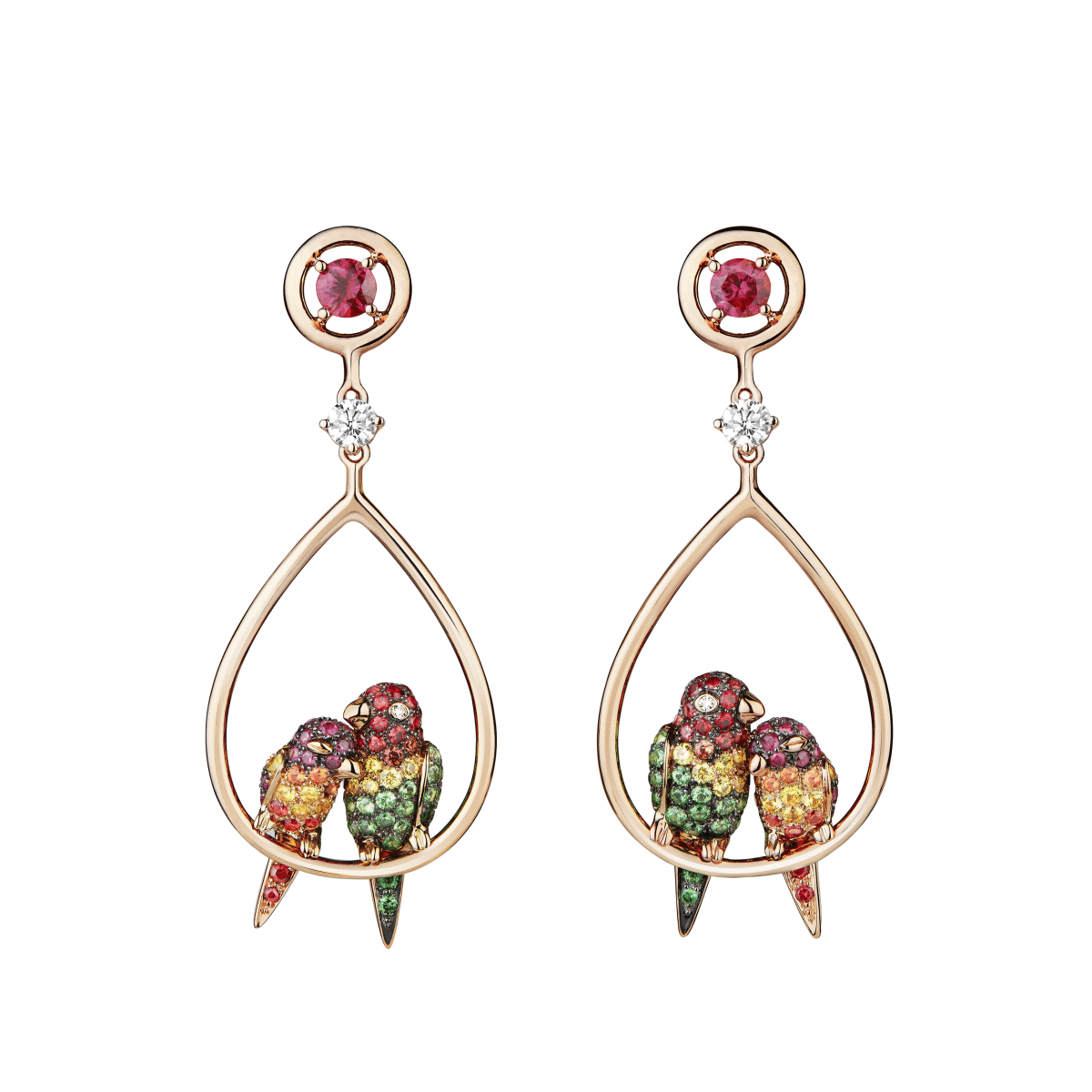 Boucheron
The venerable Parisian jeweler produces an assortment of bejeweled animals each year. This year it created six creatures, including "Nuri, Cockatoo Pendant Earrings. Each clip on earring depicts two birds with a colorful plumage made of pavé tsavorites and orange, pink, yellow round sapphires, and diamonds nestled romantically while balancing on a pink gold oval band. The name Nuri means parrot in Indonesian, and the parrots' plumage symbolizes the elements of life such as the sun, water or fire.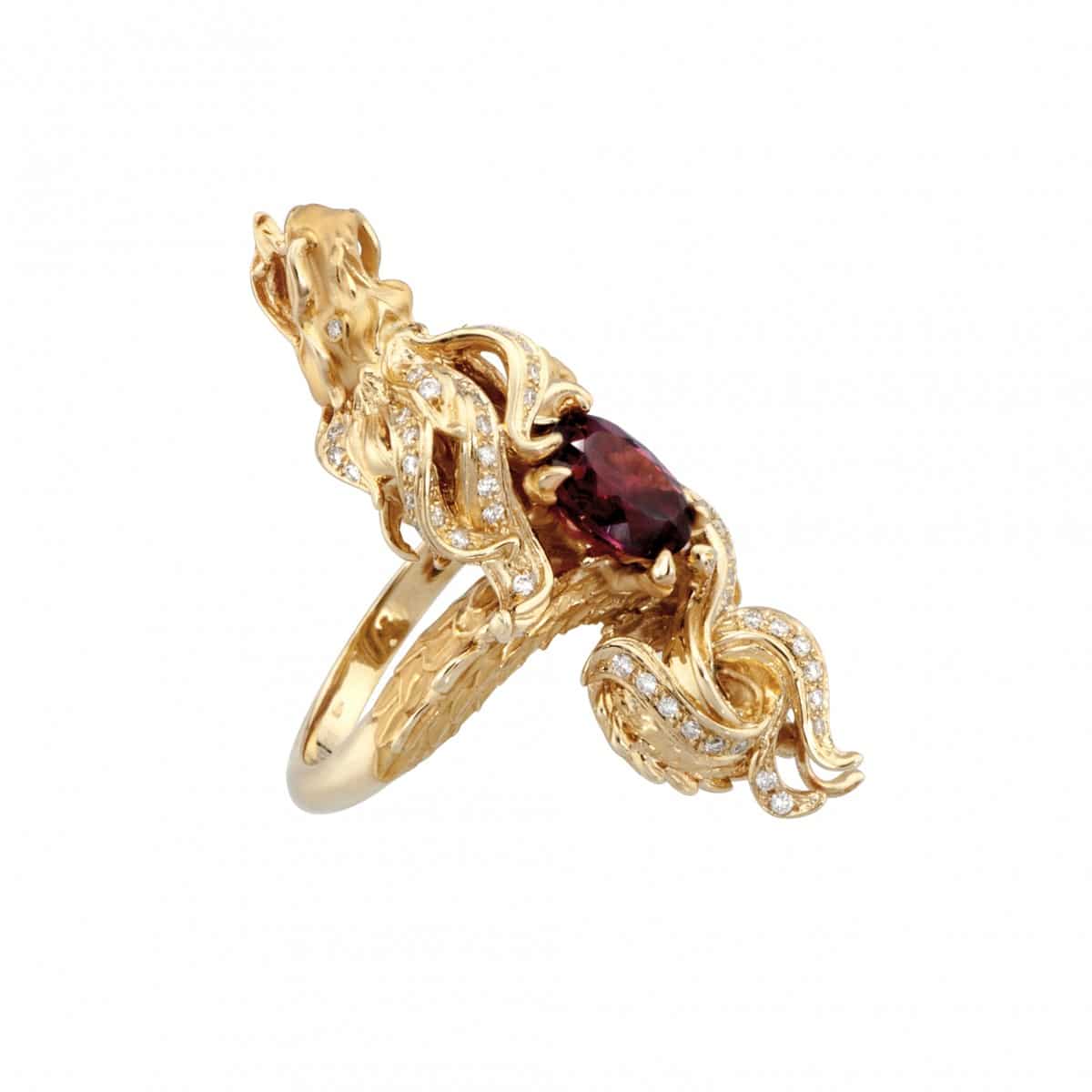 Carrera y Carrera
The Spanish brand known for its finely crafted petite elegant gold jewels added new pieces to its "Circulos de Fuego" (Circle of Fire) collection, including an assortment of fire dragon jewels. The ring pictured is made of finely carved gold with garnets and diamonds.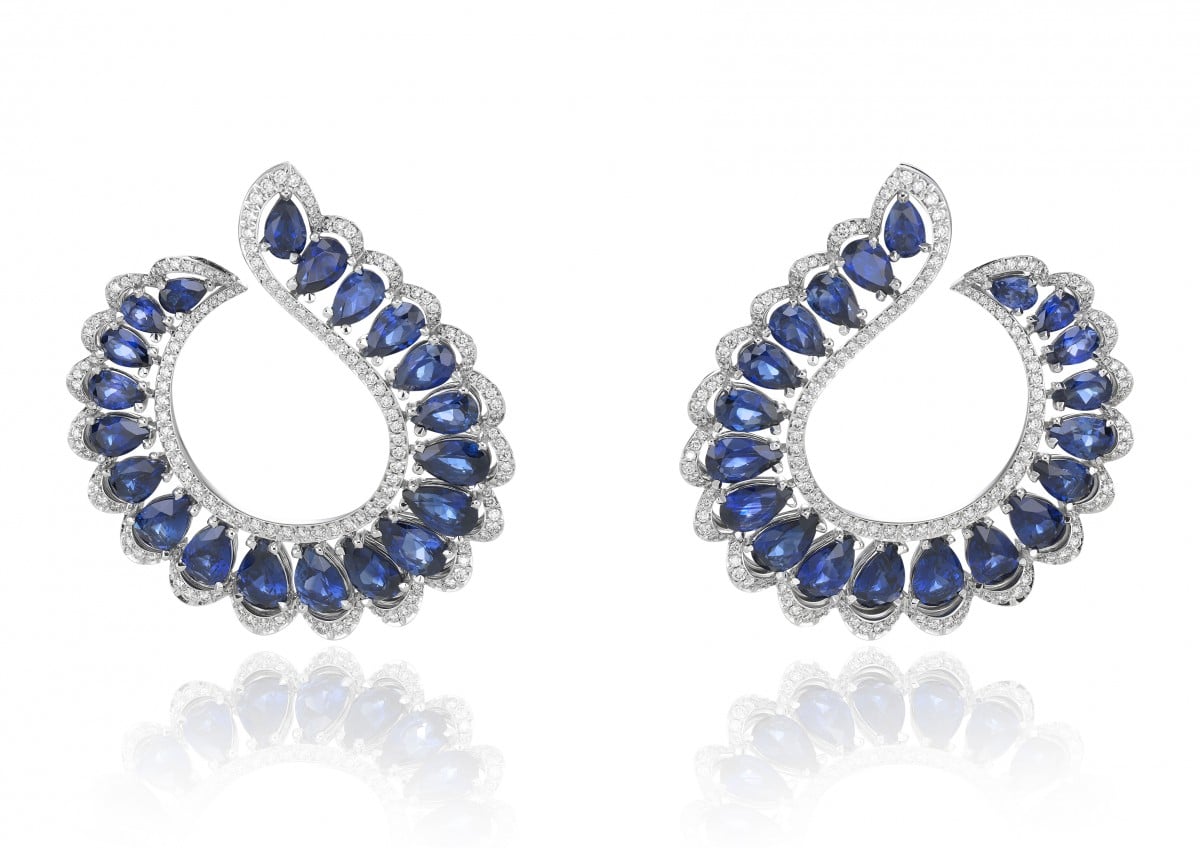 Chopard
The Swiss jewelry and watch brand presented a well-rounded group of products at Baselworld, including a colorful selection of high jewels and watches in a petal motif made with diamonds, rubies, sapphires and emeralds.
De Grisogono
Fawaz Gruosi, founder of this jewelry and watch brand, is known for his over-the-top one-of-a-kind creations that appear on some of the world's most beautiful women on red carpets around the world. The firm also produces more accessible collections. Both the high jewelry and limited edition collections were on view at Baselworld under the heading, "Walk of Icons." It included the popular Allegra Collection, which consists of round gold brands of differing materials. It includes the "Lucky 7" bracelet made up of seven pink gold bands and diamonds.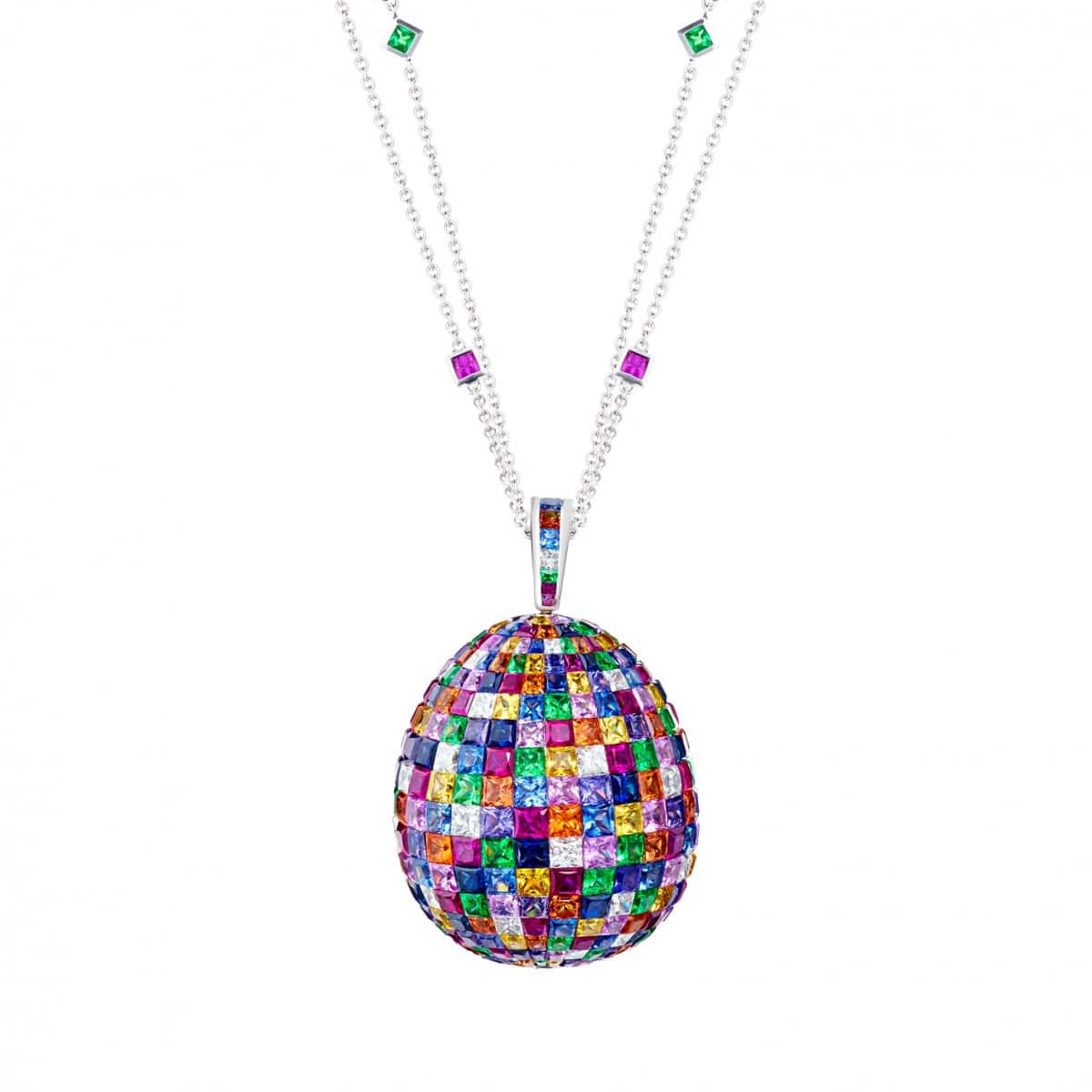 Fabergé
As one of the most iconic jewelry brands in history, it often turns to its heritage and its most famous creation, the Imperial Egg, for its modern day pieces. The company, now owned by colored gemstone mining and marketing company, Gemfields, uses the resources available from the mines for its jewels. This includes the collection of small egg pendants made of Mozambican rubies, sapphires, tzavorites and diamonds, including the tutti-frutti colored one pictured. The colored gemstones are invisibly-set with a technique that uses single-faceted gemstones, calibrated in ribbon-like narrow rows, allowing the gold setting to remain invisible for the mosaic pattern finish.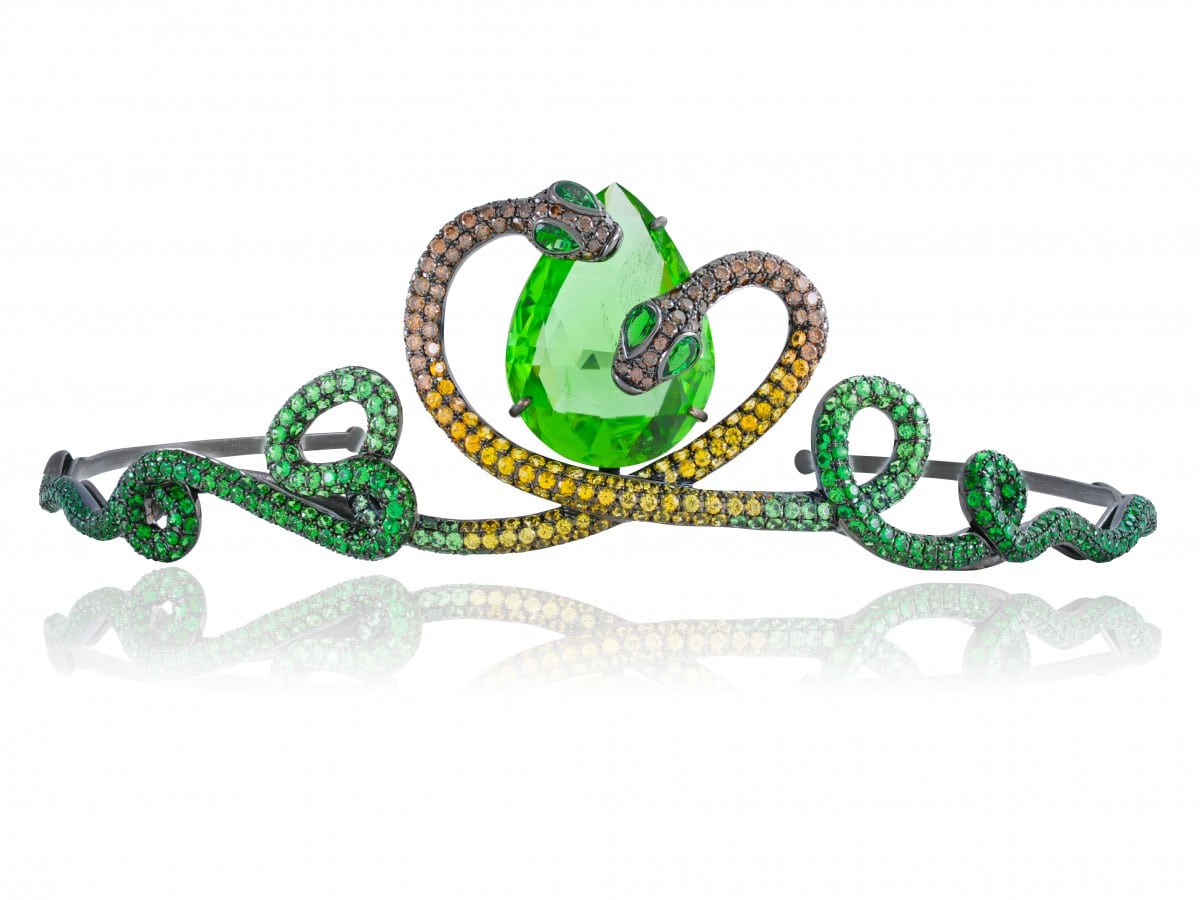 Lydia Courteille
For her latest collection, the French jewellery artist took her inspiration from a recent visit to Ethiopia and the story of the Queen of Sheba. Green is the main color for this new line. She combines tsavorites, peridots and green tourmalines; in some instances matches them with yellow and brown and blue colored gems and completes the pieces with the craftsmanship that make her designs come to life. Any piece from this collection is worthy of a spotlight but I decided to go with the tiara in 18k black rhodium gold with brown diamonds, yellow sapphires tsavorites and a large peridot.
Maria Kovadi
The Switzerland-based designer is heavily influenced by Italian design and craftsmanship it specializes in limited edition and bespoke pieces. Baselworld presented the first time the high jewelry house chose to showcase its work to a wider audience. One of the pieces that caught my eye was the Vintage Lace Bracelet made of 18k gold with milky diamonds, brown diamonds and silk thread.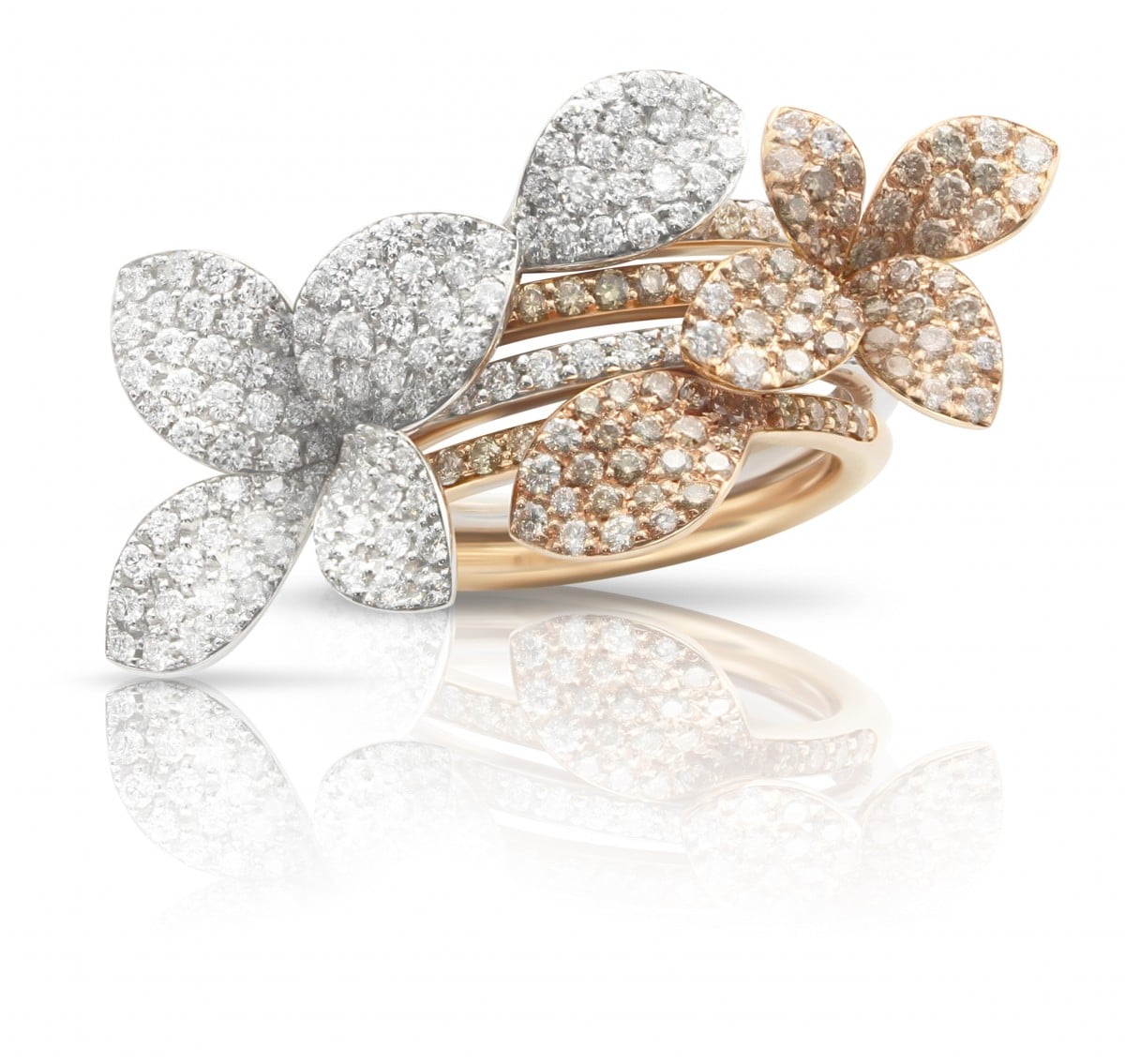 Pasquale Bruniv
The Italian jeweler focuses on traditional themes. In this case his elegant gold pieces continue the motif of secret gardens, with the "Petit Garden" collection. The company looked toward exotic locations such as Bali, Hawaii and the Caribbean for its inspiration. Necklace, rings, bracelets and earrings in the line represent blades of grass of rose and white gold and paved with diamonds.
Qayten
You usually think of Bologna as the gastronomic centre of Italy, but it also where this relatively new jewelry company hails from. It uses traditional materials and techniques to produce modern jewels that are also elegant and comfortable to wear. They added to their Japanese Akoya pearls jewels with modern designs made with Tahitian black pearls. But the best piece of the year is the Museo ring, with sapphire surrounded by at approximately seven curved tiers of gold with diamond pave.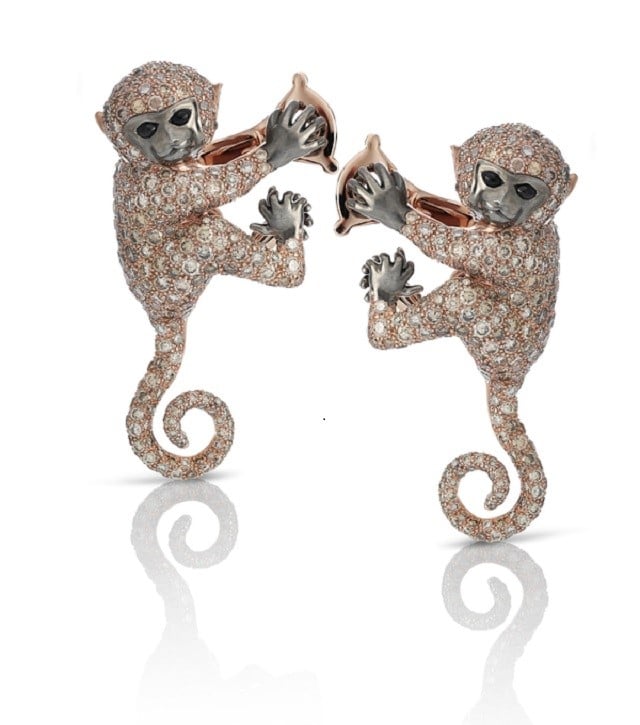 Roberto Coin
The iconic jeweler presented a learge assortment of fine gold jewels (as he does every year) made with a variety of colored gems. There were several highlights but among them was the "Cheeky Monkey" collection, with monkey figurines in playful positions made with textured 18k gold. In some cases diamond pave is added for extra sparkle.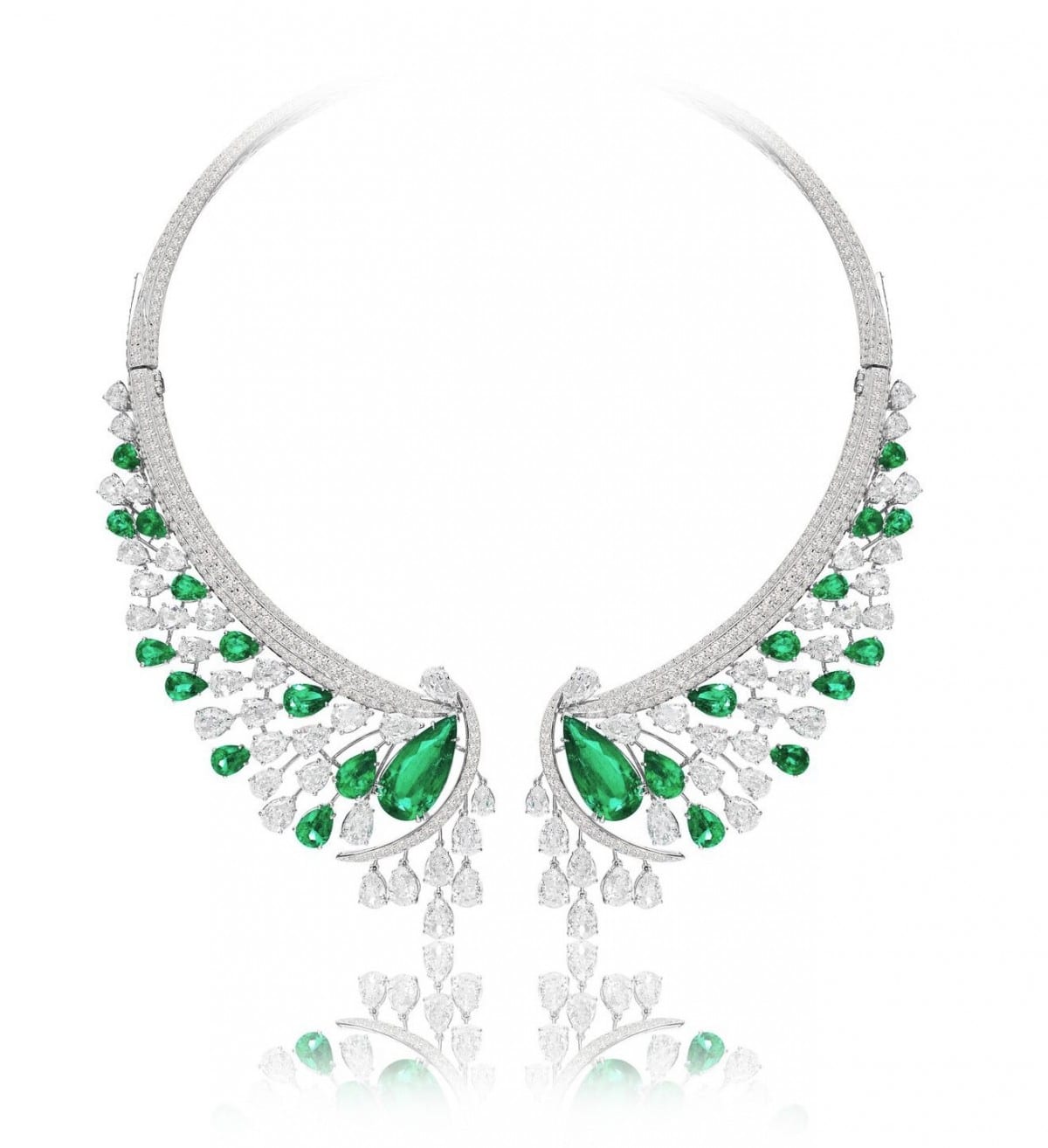 Sutra
The U.S.-based company that specializes in colored-gemstone jewels introduced its first piece of jewelry that crossed the $1 million threshold: a necklace made of 19 carats of Colombian emeralds and 51 carats of white diamonds set in 18k white gold.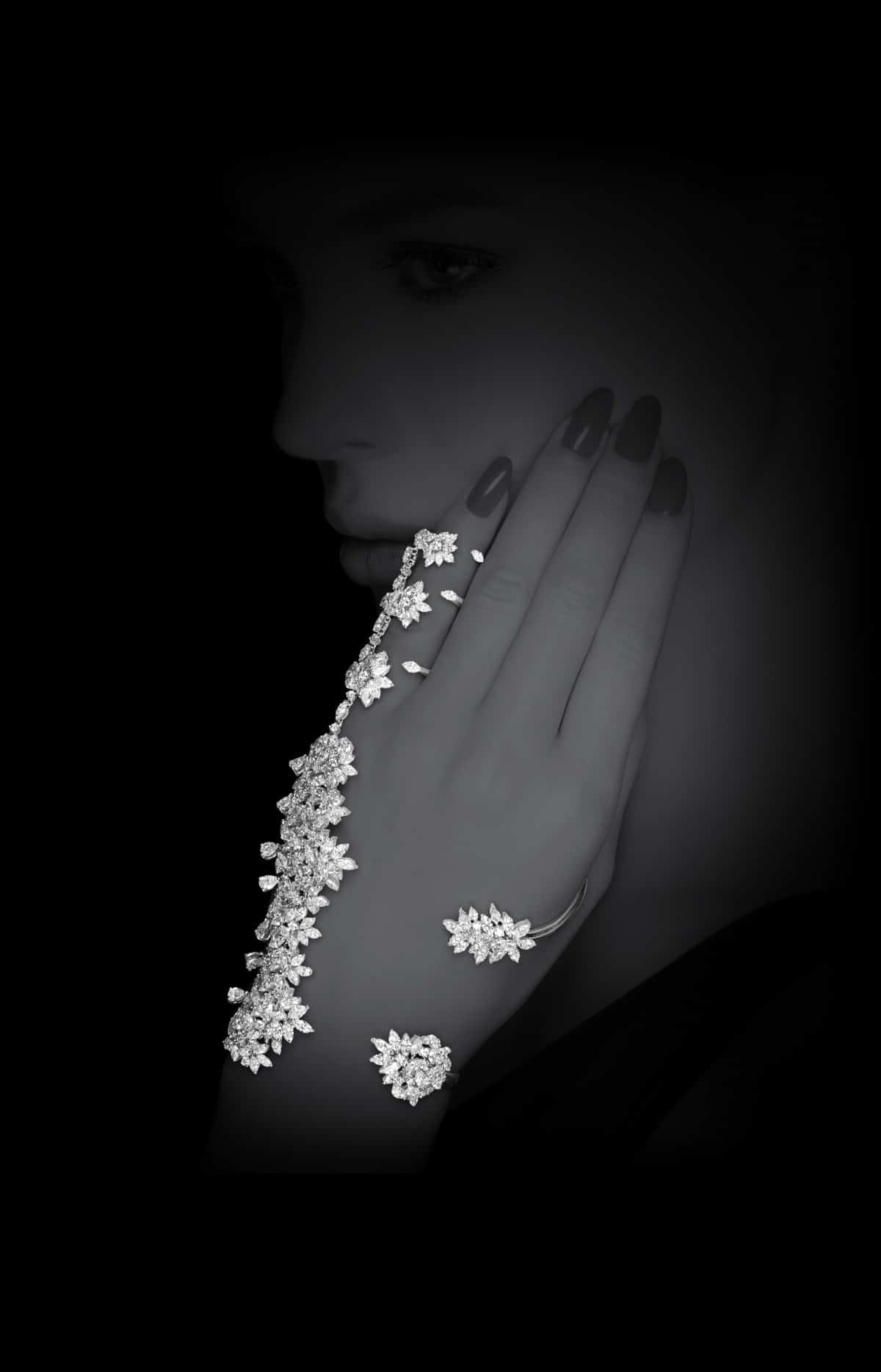 Yeprem
The Lebanon-based company has created a whole new way to look at white diamonds. Its designs are beautiful, elegant and versatile. The diamonds are cut in a way that truly exposes their sparkle. All of these characteristics are best featured in their hand jewelry, which turns the trend of multiple-finger jewels upside down.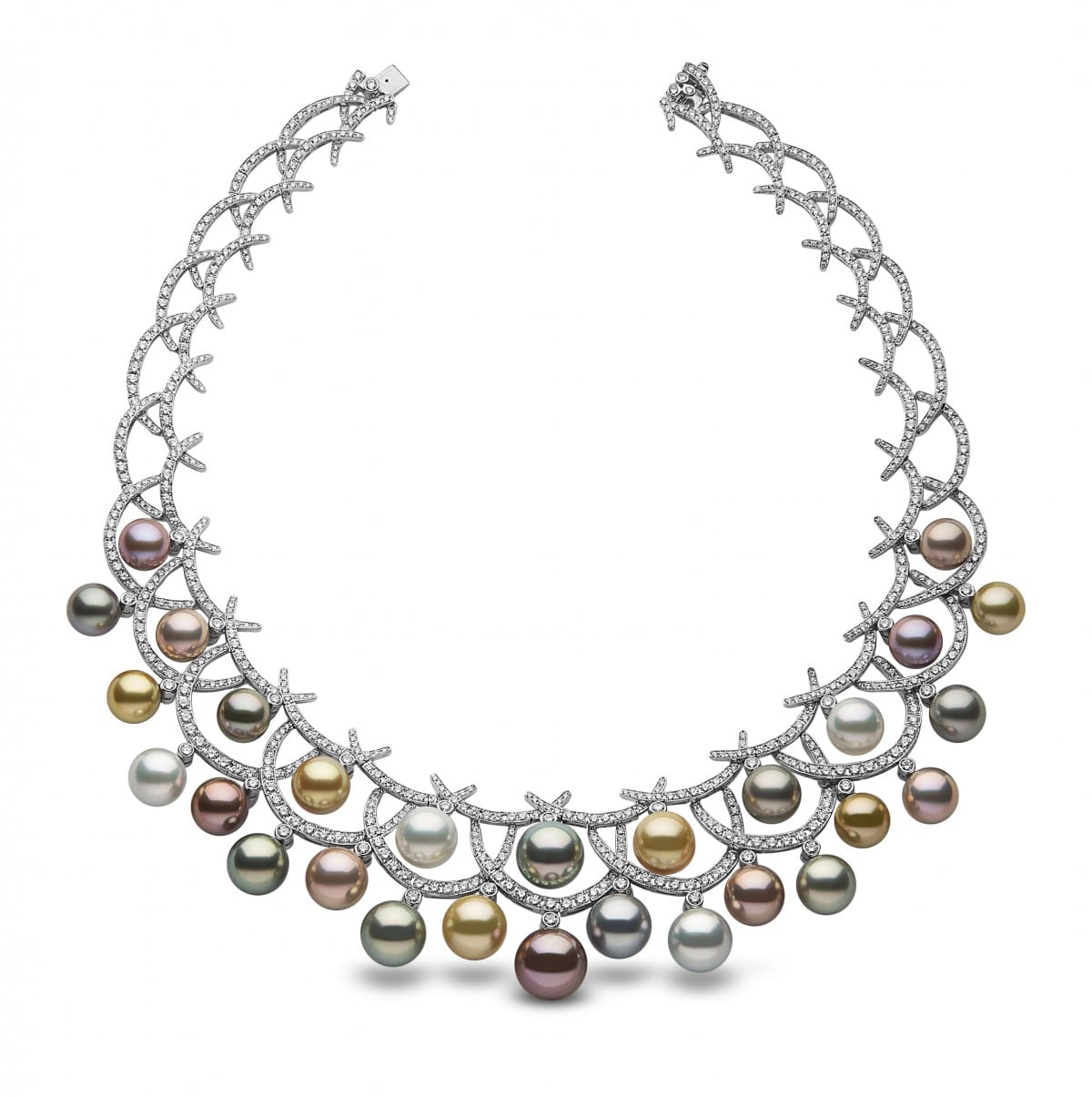 YOKO London
The company specializes in pearl jewelry that ranges from fashion to high jewelry. Lately it's been working with high-quality natural-colored fresh water pearls and mixing them with precious gems. This necklace is a case in point as it is made of natural colored South Sea, Freshwater and Tahitian pearls set with 18k white gold enhanced with 17.61 carats of diamonds.
source: forbes.com